Working 50 to 60 hours a week and spending little time with a young son was not the life Destiny Peele wanted. The work felt like a "job" instead of a career and it didn't fulfill her passion to help others. Then she learned about the BOOST 2.0 program while receiving services from the SF2 program offered by Catholic Charities Archdiocese of Hartford.
SF2 connects pregnant women and parents with young children to resources that can give them the opportunity to thrive, and BOOST was the resource that changed Destiny's life.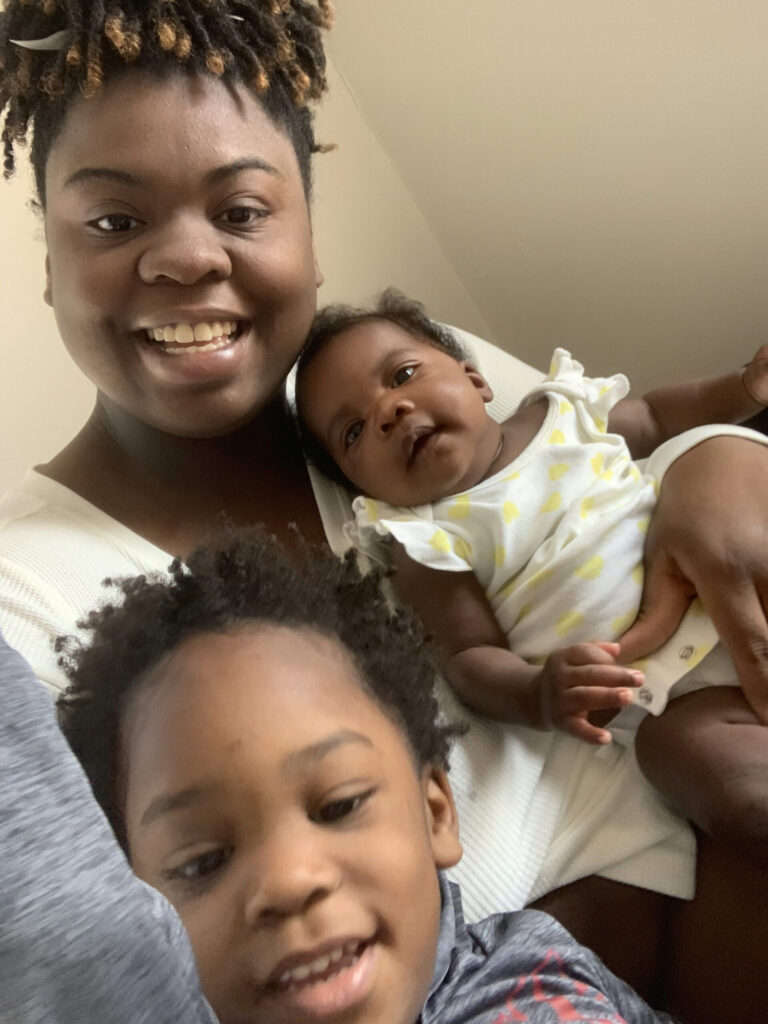 BOOST, which is an innovative partnership between Catholic Charities and Capital Community College in Hartford, was created to help two populations ages 18-35 with similar uphill battles to find work, food, housing and medical care: 1) young families with low incomes and educations; and 2) young fathers returning to the community after being incarcerated.
The program offers them a chance to gain more solid economic mobility and, unlike many other career pathway programs, it offers more than just job training. Instead, it takes a holistic approach to removing barriers, breaking the cycle of intergenerational poverty, and lifting up the whole family. Participants train in fields that lead to jobs like community health worker, administrative medical assistant, line worker, arborist, manufacturing, and IT. Destiny is one of two participants in the Community Health Worker training now working for Catholic Charities.
After joining the program, she met with a case manager who helped her obtain BOOST funding to cover childcare and tuition costs. And together, they identified a career path – Community Health Worker – that matched with her desire to help others. Destiny completed the course and was hired by Catholic Charities as a Family Support Provider in the SF2 program that she first experienced as a client. Her son, meanwhile, enrolled in a Catholic Charities School Readiness program and they were able to spend more time together with Destiny on a drastically reduced work schedule.
Destiny's achievements and new career have inspired her to reach for more. She is taking a Medical Assistant course to enhance her skills and learn more about the field, with plans to seek a Human Services degree.
How it works
Participation in BOOST (Boosting Opportunities for Social and Economic Mobility for Families) begins with meeting program Supervisor Ivelisse Acevedo or Case Manager Jennifer Ortiz, who assess the person's needs and strengths. They also determine the participant's career interests, the challenges they face, and what other supports and resources they currently receive so that goals can be set and a comprehensive plan for economic stability put into place.
The BOOST staff can also assist participants while they attend training with childcare, either at home or at an accredited care program operated by Catholic Charities.
Case management and support for participants is expected to last at least three years, which gives them time to train and adjust to a workplace's culture after the job placement. It also gives them extra time to gain extra credentials for their career field while still receiving assistance.
In the end, the ideal outcomes for the participants include improved math and English skills, completing GED requirements, stabilized family finances, employment in the chosen field, and advanced training that can lead to job promotions and pay increases.
"Because of BOOST," said Luis Santiago, Director of Programs at the Southside Family Center where the program is based, "Our case managers have been able to meet the students where they are and work with them to identify and eliminate barriers to ensure that they successfully complete their program."
For children, the ideal outcomes are being prepared for preschool or kindergarten, being fully immunized, and being part of a functional, financially stable family. The ultimate goal is for the parents to find a job that pays wages that can support a family.
Our BOOST program is funded by the Kresge Foundation. Training is free for participants thanks to the work Capital Community College in downtown Hartford does to use multiple funding streams to cover the costs. Some training is covered by SNAP E&T, which is a work program to help recipients of SNAP (Supplemental Nutrition Assistance Program) gain skills. Other funding comes from Workforce Innovation and Opportunity Act (WIOA) scholarships and grants from Capital Workforce Partners, the local workforce board. Catholic Charities also has funds that go toward helping the students.
Santiago said the program's reach and career options are being expanded by new partnerships being formed with Goodwin University and CREC, the Regional Educational Service Center serving Greater Hartford.
For more info, contact Ivelisse Acevedo at 860-655-0895 or iacevedo@ccaoh.org.