Razors buzzing. Scissors snipping. Those are new sounds inside Hartford's McDonough Middle School thanks to a new partnership between Catholic Charities and a local barbershop.
Shop McDonough opened March 27 and barbers from The Shop in Newington were busy giving free haircuts to students in a space that is part of Catholic Charities' Community Schools project.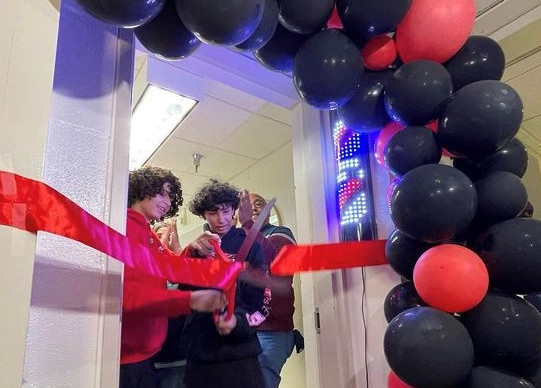 Catholic Charities first opened at McDonough in December 2019, just before the pandemic abruptly shut down the schools. When the lockdown eventually lifted and absentee rates skyrocketed, Catholic Charities dedicated its resources to getting students back in the classroom. One of the barbershop's main goals is to eliminate some reasons students weren't attending.
"We found out that some students planned on missing the first day after the lockdown because they did not feel ready to come back yet," said Patrick Williams, the Community School director for Catholic Charities at McDonough. "They were unable for several reasons to get haircuts, secure uniforms, and address their basic needs."
So Patrick and the CCAOH Community Schools staff identified a problem and went to work devising a solution. They worked with Michelle Martinez, McDonough's Family and Community Support Services Provider, to launch Shop McDonough after purchasing the necessary supplies and outfitting the "shop" to provide cuts.
"Our goal at Catholic Charities is to provide all of the supports to encourage students to attend school daily and minimize potential distractions in the classroom," said Nick Lebron, the Community School Partnership & Operations Manager at CCAOH. "The barbershop supports the idea that our children want to put their best self forward when they are out in this world."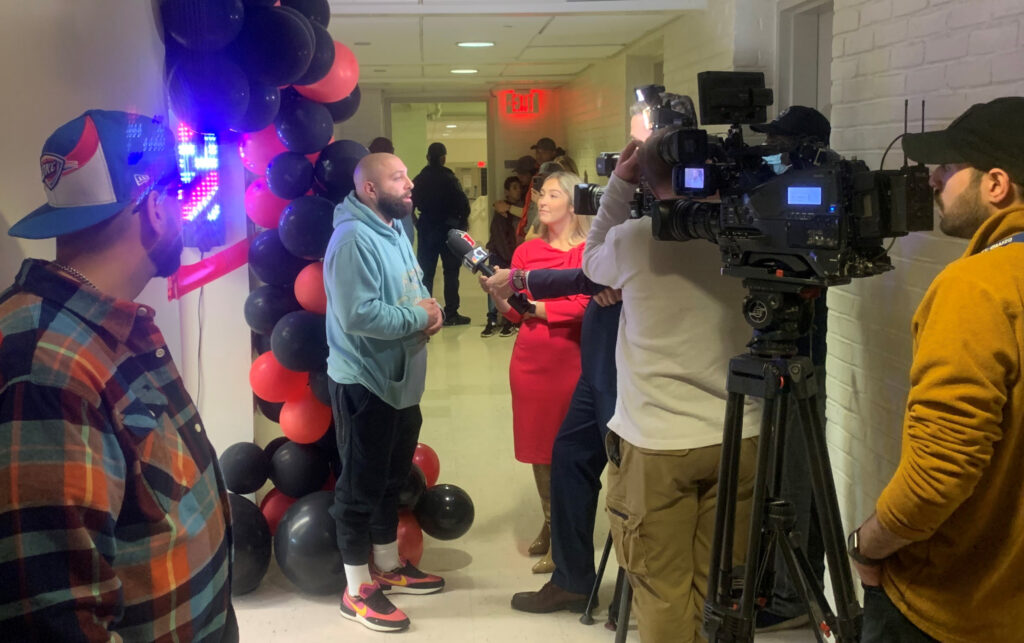 Phil Savvis is owner of The Shop in Newington and was at McDonough on opening day to give haircuts and be a mentor for the young men in his chairs.
"When I started this my goal was to just give kids nice haircuts, then it became more," said Savvis, whose customers also include UConn basketball players. He wants "every school in Hartford or the state to try and follow what we started here at McDonough and with Catholic Charities. My goal is to also get through to the kids by learning how they are living, talking to them and see what they are going through and maybe I can help in multiple ways."
---
"I do this because a lot of parents in Hartford have to work multiple jobs so sometimes they don't have time to take their kid to the barbershop or even have time to go, and then there are parents who can't afford to take a kid to the shop. … If I can save a family some time and money and bring the barbershop to a school and help that way, I will."
---
Savvis said teaming up with Catholic Charities was an easy decision, especially since his wife, Crystal, worked at the agency several years ago. "I remember my wife telling me stories about how Catholic Charities helped out the community … So I love when people give back and help. I'm all for it myself."
There will be four barbers at the school every three Mondays for approximately 4 hours, cutting hair and mentoring the students. The schedule can change if there is a holiday and if a student needs a cut when the school shop isn't open, Martinez will call Savvis, who will have the teen visit his Newington shop.
"It's part of the school day," Williams said. "They are learning about responsibility and accountability. And they learned about entrepreneurship with the shop opening."
Catholic Charities is the lead agency in extensive community partnerships with Hartford Public Schools at McDonough and Milner middle schools and Parkville Community School, which serves students up to Grade 5. In the lead role, CCAOH vets and brings in new partners, like The Shop, to help the district support learning initiatives that lead to improved student learning, stronger families, and healthier communities, all at no cost to the parents. The agency provides clinical support for students and families who have suffered trauma, afterschool programs, services to help students achieve academic success beyond the middle school years, and support services for parents to foster educational and personal development.
For more information about the Community Schools program, visit www.ccaoh.org/how-we-help/community-schools.
Below is the NBC Connecticut story on the grand opening.