There's a photo of Frankie MacNear holding a brand new laptop and a sign that says "CONGRATULATIONS!" He's got a big, beaming smile on his face and he looks like he's laughing. His pride is bursting out from the image. Next to him on a table is a box with "You're in!" printed on the inside of the lid.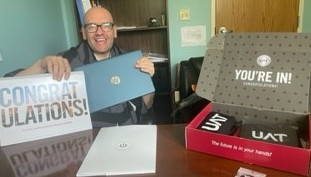 The photo of Frankie, taken in the spring at the Catholic Charities Behavioral Health Clinic in New Haven, can tell you a lot of things — he's proud, he's happy, he's succeeding — but what the photo can't tell you is how different that moment was from his life just a little more than a year before.
In that darker, earlier time Frankie was on parole after being in prison and living at a residential placement home in New Haven operated by The Connection, a Middletown-based human service organization. He was unable to find work, had no cell phone to keep him connected, and his outlook was dismal.
A case manager at The Connection referred Frankie to the Catholic Charities' Behavioral Health program in New Haven in May 2022 and because he had been the victim of a crime during his incarceration, he also qualified for the VOCA program. VOCA (Victims of Crime Act) provides the victims of a number of various crimes with free holistic support through case management and clinical assistance to encourage their healing, growth and resiliency.
Rikkia Ben Yehudah, Frankie's VOCA clinical case manager at the Catholic Charities' Behavioral Health Clinic at 501 Lombard St. in New Haven, started closely working with him to get his life back on track. She helped him obtain a cell phone and helped him revise a resume and essay when he successfully applied for a scholarship from the APT Foundation's Vocational Services program. The $600 award he received was used to purchase a laptop computer and obtain a driver's license.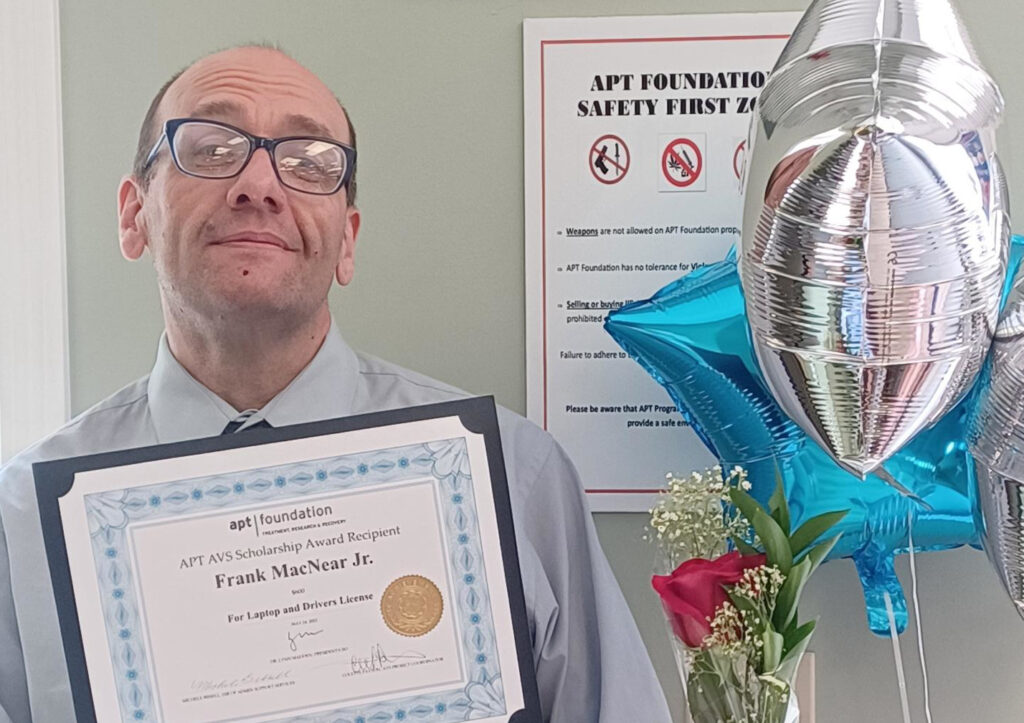 The support Frankie received from Catholic Charities and his APT counselor helped him land a job at Amazon (he also volunteers at the Shubert Theatre in downtown New Haven). He receives housing support and internet access for his laptop work from the Fellowship Place in New Haven.
But Frankie's story doesn't end here. That photo of him holding the congratulations sign shows him opening the acceptance package sent by the University of Advancing Technology, an online school that will teach him about cybersecurity, a field that offers him job security.
Frankie is too motivated to let his story end there either. He also plans to apply for a state Department of Mental Health and Addiction Services program that trains participants to become Certified Recovery Support Specialists — counselors uniquely qualified to provide support because they have been down similar problematic paths.
"Ultimately he sees himself becoming an addiction counselor," said Rikkia, the program supervisor at the New Haven office. "He is inspired to work in this field because he has been locked up before and also has family who struggle with addictions.
"Frankie is feeling encouraged now that he is finally getting his life back on track."
Catholic Charities operates Behavioral Health clinics in Hartford, New Haven, Torrington, and Waterbury. Through individual or group therapy, our clinicians are able to address problems associated with substance use, depression, anxiety, anger management, trauma, grief and loss, and other mental health issues. For more information or to find a clinic near you, visit www.ccaoh.org/bh.