Children & Youth
Each day, hundreds of children ages 3- to 5-years-old attend our School Readiness programs in Hartford, Meriden, New Haven, and Waterbury.
Catholic Charities also provides an Early Head Start program for infants and toddlers in Hartford, infant and toddler care in Waterbury, Youth Development programs for adolescents in New Haven, and a scholarship program affiliated with Catholic high schools.
Being there for children and youth also means being there for parents and other caretakers. Our programs include comprehensive wraparound services, including family literacy, well-child screenings, parent education and support programs, and more.
School Readiness
Catholic Charities operates full-day, full-year School Readiness programs for 3- to 5-year-olds in Hartford, Meriden, New Haven, and Waterbury. The goal of School Readiness is to prepare children to enter kindergarten ready to learn and succeed.
Tuition based on each family's ability to pay
Breakfast, lunch, and snack served daily at no cost to families
State-licensed and NAEYC accredited (National Association for the Education of Young Children). which means they meet the most rigorous national standards in education, healthy, and safety
Program promotes children's language, cognitive, social, emotional, and physical development
Curriculum designed to prepare your child for Kindergarten success
There is no income limit to qualify. Each program operates on a sliding fee scale based on family income.
Hartford
Paraiso Infantil, 45 Wadsworth Street – Olga Toledo, (860) 524-6853, x. 221
Child Development Center, 53 Wadsworth Street – Olga Toledo, (860) 524-6853, x. 221
SS Cyril & Methodius Child Development Center, 35 Groton Street – Destiny Ramos, (860) 206-9265
SS Cyril & Methodius Child Development Center (Early Head Start), 45 Groton Street – Maria Franco, (860) 934-8047
Meriden
St. Stanislaus, 81 Akron Street – Jahinelis Suarez, (203) 238-0845
New Haven
St. Francis & St. Rose of Lima, 423 Ferry Street – Martha Canas, (203) 691-1538
Child Development Center, 790 Grand Avenue – Catalina Londono, (203) 772-1131
Centro San Jose, 290 Grand Avenue – Sylvia Velez, (203) 777-6771
Waterbury
Child Development Center, 965 South Main Street – Jessica Nieves, (203) 346-1301
Early Head Start (Hartford) & Infants/Toddlers Program (Waterbury)
Now hiring! Click here to see all Early Learning jobs. Click here to see all CCAOH openings.
Early Head Start is a comprehensive program, encouraging parent involvement through regular visits to the home, regular opportunities for parents to volunteer, and special activities. Early Head Start promotes the physical, cognitive, social, and emotional development of infants and toddlers through safe and developmentally enriching care-giving.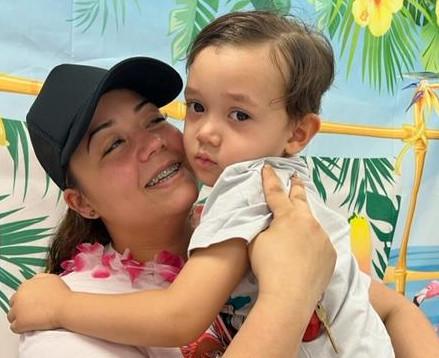 Children from birth to age 3 who are from families with incomes below the poverty guidelines are eligible for Early Head Start services. Children from families that are homeless and/or families receiving public assistance such as TANF or SSI are also eligible.
Interested in joining our Early Head Start program? Call Maria Franco today at (860) 934-8047 to learn more.
Our Child Development Center on South Main Street in Waterbury provides nurturing and educational care for infants and children from the age of 6 weeks to 3 years old.
Interested in joining our Infants/Toddlers program in Waterbury? Please call us at (203) 346-1301.
Youth Development Programs
Our Centro San Jose Family Center in the Fair Haven neighborhood of New Haven provides comprehensive services for young people, with a focus on academics, leadership, employment skills training, civic engagement, and social development.
This program includes a competitive basketball team in an alternative league associated with New Haven Public Schools. Students receive tutoring and are required to maintain a minimum GPA to remain on the team.
Matthew 25 Scholars Program
Matthew 25 assists high school students from Hartford or East Hartford who have been accepted for enrollment at Northwest Catholic or East Catholic. The program fosters educational and social success through financial assistance with books, uniforms, and referrals for basic needs.