Family Centers
Catholic Charities Family Centers are neighborhood hubs that offer a culturally competent and comprehensive approach to the development and enhancement of the family.
Our Family Centers are built upon the principles of parent empowerment and leadership development. They offer children and parents a comprehensive array of programs in neighborhood-based locations, helping children to grow and develop, parents to achieve their own personal and educational goals, and families to build stronger communities.
Catholic Charities operates these Family Centers, but each is influenced by parents and families who assist in establishing the agenda, goals, and objectives that are right for their community. Our Family Centers are located in Hartford, Meriden, New Haven, and Waterbury.
Here are just a few of the programs and services available to our families across the region:
Parenting Support Services
Parenting Support Services is a home visiting program designed to decrease risk factors for child abuse and neglect, helping parents become resourceful problem solvers. As a result, parents will be able to create a positive and safe home learning environment for children to develop emotional, behavioral, and cognitive strengths.
Basic Needs
Catholic Charities Family Centers provides case management services to low-income families in crisis. Services include but are not limited to emergency assistance with housing, food, diaper, and clothing needs; rental and utilities payment assistance; and access to entitlement programs for which they may be eligible, including the SNAP nutrition program.
Institute for the Hispanic Family
Located at 45 Wadsworth Street in Hartford, the Institute for the Hispanic Family offers a wide range of culturally and linguistically competent programs for Hartford's Hispanic and Latino community. The Institute helps families and individuals, from early childhood to older adulthood, regardless of income, religion, or race. Services include: Behavioral Health programs for adults, adolescents, and children; Basic Needs assistance, including food pantry; the Hispanic Senior Center; and School Readiness programming for children ages 3- to 5-years-old. … Haga clic aquí para leer más sobre IHF en español.
TANF Case Management
The Temporary Assistance to Needy Families Case Management program (TANF-CM) is a statewide, home-based case management and basic needs support program designed to promote self-sufficiency and child well-being. This program assists recipients of Temporary Family Assistance through intensive, solution-focused case management and care coordination to identify and reduce barriers to sustained employment, increase access to community resources, and nurture child development.
SNAP Outreach and Enrollment
In order to alleviate hunger in households where families struggle to earn a living, Catholic Charities helps to identify and enroll eligible recipients of the Supplemental Nutrition Assistance Program (SNAP), a federal program that provides nutrition benefits to low-income individuals and families. Catholic Charities is grateful to partner with the Walmart Foundation and Catholic Charities USA to provide both enrollment and education activities in Hartford, Meriden, New Haven, and Waterbury.
BOOST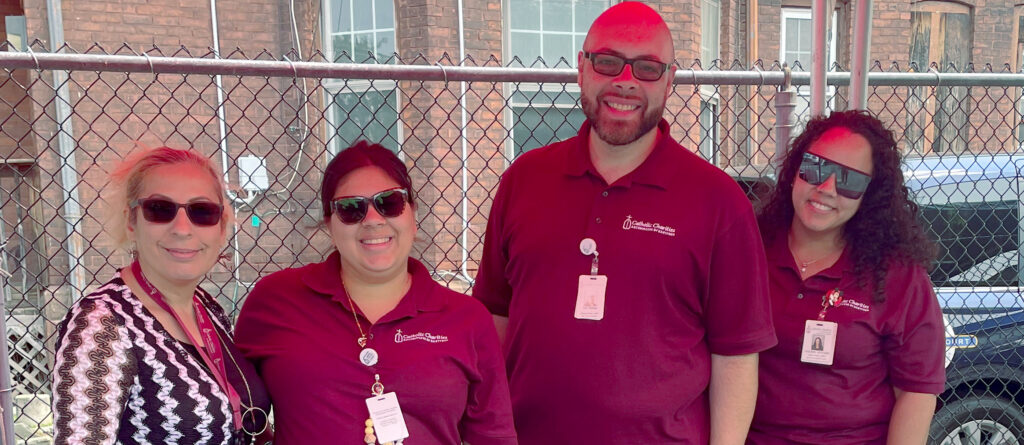 Catholic Charities is proud to have been awarded a grant from the Kresge Foundation through the Boosting Opportunities for Social and Economic Mobility for Families (BOOST) initiative. This grant supports partnerships between human services nonprofits and community colleges that connect students with critical supports, making it easier for them them to juggle work, family, and school while studying. Catholic Charities is pleased to partner with Capital Community College, which will provide families in central Connecticut with college application and financial aid assistance, career and financial coaching, and programming that promotes healthy family relationships.
Click to read a BOOST success story.
Interested in learning more? You may qualify! BOOST connects people in our community with support systems, education, and better jobs for a brighter future. Don't miss out! You can do it. We will help. For more info, contact Ivelisse Acevedo at 860-297-7802 or iacevedo@ccaoh.org.
Fatherhood Program
Our Fatherhood Program provides resources to help fathers gain awareness of the important role they play in their children's overall social, emotional, mental, physical, and developmental well-being. Available in English or Spanish, our Fatherhood Program includes home visiting services, groups, and case management. The Fatherhood Program is funded by the Connecticut Department of Health, Department of Social Services, and the Hartford Foundation for Public Giving.
Latino Outreach Program
Operated out of the Institute for the Hispanic Family at 45 Wadsworth St. in Hartford, this unique, community-based outreach program is designed to engage and connect Latinos living in our community with a comprehensive array of human services.
Genoa Healthcare Pharmacy
Genoa Healthcare operates a pharmacy at our Institute for the Hispanic Family at 45 Wadsworth Street in Hartford, which is open and ready to serve our clients, including if meeting with your doctor by phone or video.
The pharmacy:
Fills ALL medications (not just for our Behavioral Health clients)

Mails all medications (at no extra cost), offers FREE delivery or you can pick them up at curbside
Organizes pills based on the date and time you need to take them, making it easy to stay on track
Helps you transfer prescriptions from other pharmacies
Please contact a Genoa pharmacist at (860) 920-5433.