March 2023 newsletter

Look good, feel good … go to school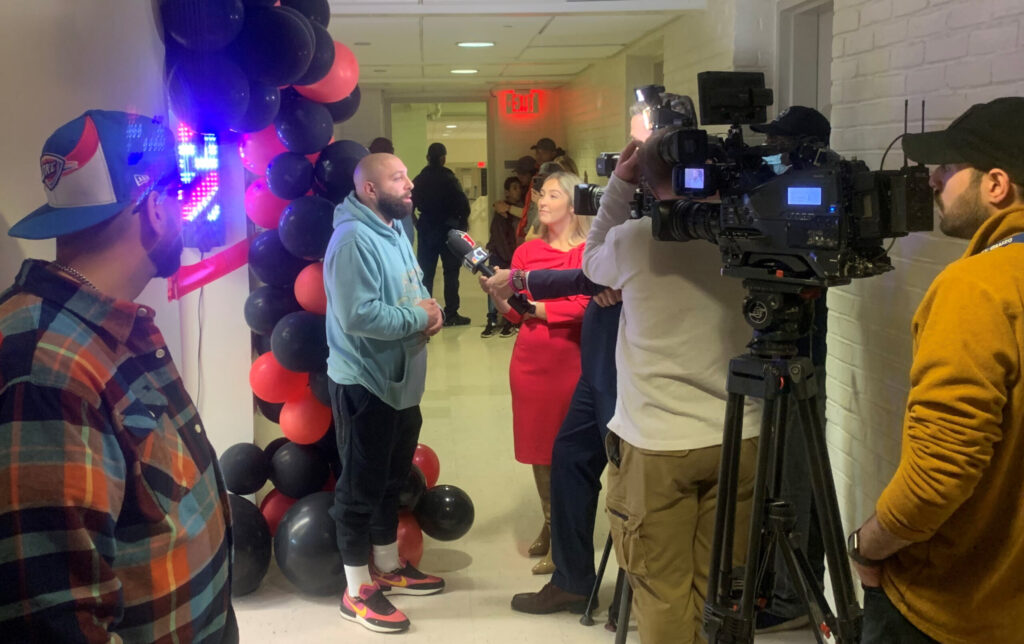 Our Community Schools program came up with a novel idea to help keep students attending McDonough Middle School in Hartford. Our team realized one of the barriers that kept kids from attending was confidence. A new barbershop is meant to change that. Click here to read the story.
---
Last day to vote in United Way's Cutest Pet contest
Today (March 31) is the last day to make a pledge to be entered into the $50 Amazon gift card drawing and to vote for the cutest pet! Make your pledge by midnight of at least $25 to be entered into the drawing. Visit https://brurl.co/CCAOHgives and see two options:
Payroll deduction: To have a specific amount donated from each paycheck, click "Payroll Deduction" and enter the dollar amount. The 16 deductions will be from May 26 to Dec. 22.
One-time donation: Click "Pay with a credit card" and enter dollar amount and your credit card information.
Both options let you designate an organization to receive your donations. To have it benefit CCAOH, click the field and scroll down to "Another Organization." In the search field that opens up, start typing "Catholic Charities," and our name will appear. It's very important to add the comma, otherwise our agency doesn't show up.
---
Jose and Darlene Avila blessed by adoption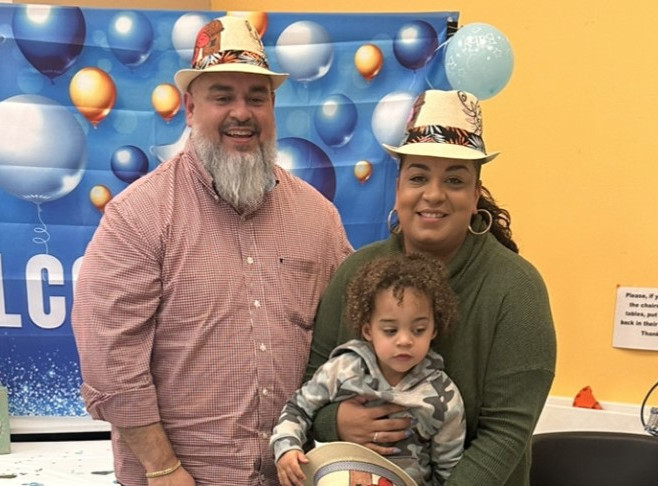 The IHF family sends its love and support to Jose and Darlene Avila, who have formally adopted 2-year-old Luka. Jose, an Adult Behavioral Health Supervisor, and Darlene have been foster parents for Luka and were blessed with the adoption news this month.
---

Telling the stories about your good work
There is a new page on our website to highlight the "success" stories that result from the invaluable work that you all do. The stories will be about clients, staff, programs, facilities or something you do to provide help and creates hope. The debut story is about a couple who found love at the South End Wellness Senior Center in Hartford. Click here to see the page. … Each time a new story is published on the website, it will also be shared on social media and emails. We want as many people as possible to read about your efforts, so please help spread the word with shares, likes and comments. Links to all of our social media accounts are at the top of this page.
---
New directors joining the agency April 17
Our new Senior Director of Behavioral Health is Andrea Swenson and she comes to us from New York, where she has significant experience running clinics, working closely with the court system, building partnerships, and doing direct practice with clients.
Our new Senior Director of Developmental Services is Jillian Webb, who comes to Catholic Charities from Easter Seals, where she has a number of years of experience running day programs for individuals with developmental disabilities.
---
BOOST program a finalist for national grants contest
Our agency was named a finalist in the Catholic Charities USA Innovation Challenge, an effort meant to encourage member agencies across the country to develop unique programs that foster workforce development and reduce poverty. Our Grants team submitted the initial entry in early February and Catholic Charities USA announced March 29 that CCAOH is among the three finalists in the large agency category. The next step is to submit a short video that explains our program and why it should be awarded a grant. Voting will be July through September and winners will be announced at the Catholic Charities USA annual gathering in September.
The program our agency chose to spotlight is BOOST 2.0, which is a program we have operated in partnership with Capital Community College to help two populations in Hartford move toward economic upward mobility. The program helps young parents ages 18-35 facing simultaneous challenges and fathers ages 18-35 who are returning to their communities after a period of incarceration.
Participants receive training that puts them on pathways to careers providing wages that are sufficient to support families. With a focus on families with children, the goal is to achieve positive outcomes for parents as well as children to lift the whole family and break the cycle of poverty. Supervising the program is Luis Santiago, director of the Southside Family Center. Ivelisse Acevedo provides case management and is the employment specialist. Jennifer Ortiz is a new case manager.
---
Catholic Charities repped at Hartford hockey game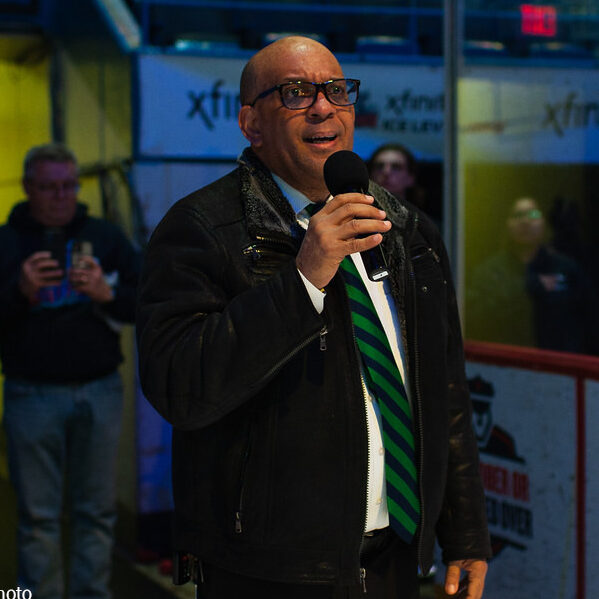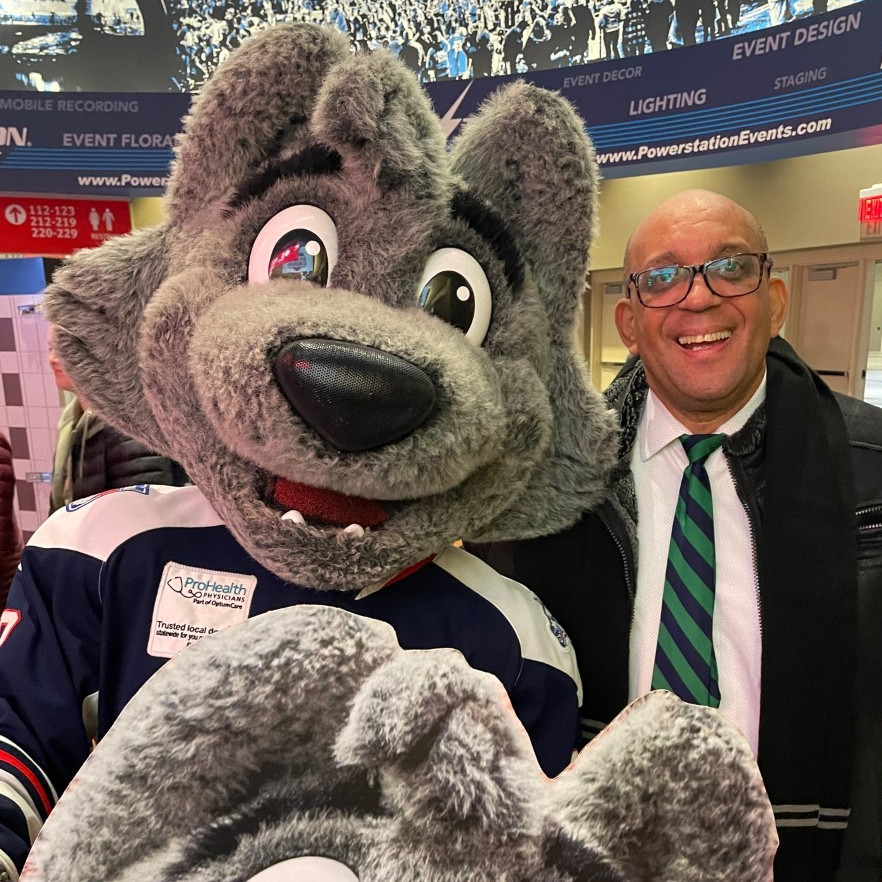 Eric Taveras, a Behavioral Health Clinician at our Waterbury Family Service Center, singing the national anthem March 15 at the Hartford Wolf Pack game. Before the game he met Sonar. Well done, Eric!
Hartford Athletic soccer tickets available
Tickets for the April 1 (tomorrow) match between the Hartford Athletic and Orange County are available through this link. The match starts at 2 p.m. at Trinity Health Stadium (formerly Dillon) at 250 Huyshope Ave. in Hartford. If you go and take photos, tag us on Instagram (@catholiccharitiesaoh).
---
Scenes from around the CCAOH world
Click each photo to see more from the website or social media posts
---
HR offers easier income, employment verification system
The next time you are you applying for credit, leasing or renting, financing a purchase, or government services, there's now an easy way to get proof of income or employment without calling our HR department. The next time you are asked for income and employment proof, send the person making the request the following information:
www.theworknumber.com / 800-367-5690, M-F 8 am to 8 pm (ET) / Catholic Charities Employer code: 10256162
This code helps credentialed lenders, property managers, creditors, government agencies and others request your employees' employment and income information on www.theworknumber.com. You can also use this code to see what information is shared about them when verification is requested.
---
New Employees
Ashanae Boothe, Financial Stability Specialist
Karina Muñiz, Custodial Aide/Kitchen Aide, St. Francis & St. Rosa of Lima
Maria Merino Moreno, Floater (Infant & Toddler), SS. Cyril and Methodius Child Development Center
Nena Davey, Family Specialist-Case Manager II, Parker Memorial Family Center
Gabriela Cuapio, Assistant Teacher (AA/AS Level), Centro San Jose
John Davis, Residential Manager, Mills Pond
Kiandra Rivera, Youth Development Associate, CSCA – Parkville School
Stephanie Perez, Intensive Community Health Worker, Institute for the Hispanic Family
Trevaughn Cooper, Youth Development Associate – Driver, Community Schools
Angelica Hernandez-Cruz, Assistant Teacher (AA/AS Level), SS. Cyril and Methodius Child Development Center
Coraima Pagan, Client Care Specialist, Institute for the Hispanic Family
Susan Arana, Bachelor Level Internship
Wilma Rivera, CCBHC Clinician I, Institute for the Hispanic Family
---
Send in your news!
We want to know what's happening in your world for the next newsletter! Births, weddings, awards … If it's newsworthy, send it to sgriffin@ccaoh.org.