September newsletter

GOOD LUCK IN CLEVELAND!
A team from Catholic Charities is headed to Cleveland next week for the Catholic Charities USA Annual Gathering to present a video about our BOOST program, which is a finalist in an Innovation Challenge contest held by Catholic Charities USA. Each finalist had to submit a video for the final round and the winning agencies, who will earn prize money, will be announced in Cleveland after attendees vote on the videos. Attending for our agency is Ivelisse Acevedo, Liz Bryden, Joel Cruz, and Luis Santiago.
"Ivelisse and I are excited to share about our grant proposal and our plans to expand BOOST to be able help even more individuals achieve upward mobility," Luis said. "We are bringing our passion and enthusiasm for the work we do with BOOST to Cleveland and we are confident that the conference will get excited with us and vote to approve to continue to fund our work here in the Hartford region."
The BOOST program was created in a partnership with Capital Community College to help young families who are struggling to find work, food, housing, and medical care.
Click here to watch the BOOST video.
Click here to see the videos from the other agencies in our large agency category.
---
Community Schools featured on Catholic Charities USA site
The Communications team at Catholic Charities USA saw the story about a barbershop program that our Community Schools team had launched and were intrigued by the good work they were seeing us doing in Hartford Public Schools. They sent a video crew to Hartford in late spring to produce a video about Nick Lebron's team and it is currently featured at the top of the national agency's website, www.catholiccharitiesusa.org.
---
Foster grandparents program featured in news story
CT Latino News recently published a story about the foster grandparent program at the Institute for the Hispanic Family (en español) in Hartford. The program brings together members of our seniors program with young children in the Early Childhood programs. The seniors help teachers set up the classrooms and run activities, while also spending valuable time with the children who may not spend much time with their grandparents — abuelitas — or have never met them.
---
"Live From Catholic Charities" a new outlet for your stories
In case you missed it, the new webinar "Live From Catholic Charities" launched on Sept. 21. This exciting new venture will feature us telling stories and sharing information about the work you all do to make our communities stronger and healthier. In the first episode, Jillian Webb and Sue Noonan from the Developmental Services team talked about Bella, a true success story in the Limitless II program, and answered questions about their services. Stay tuned for the next "Live From Catholic Charities!"
---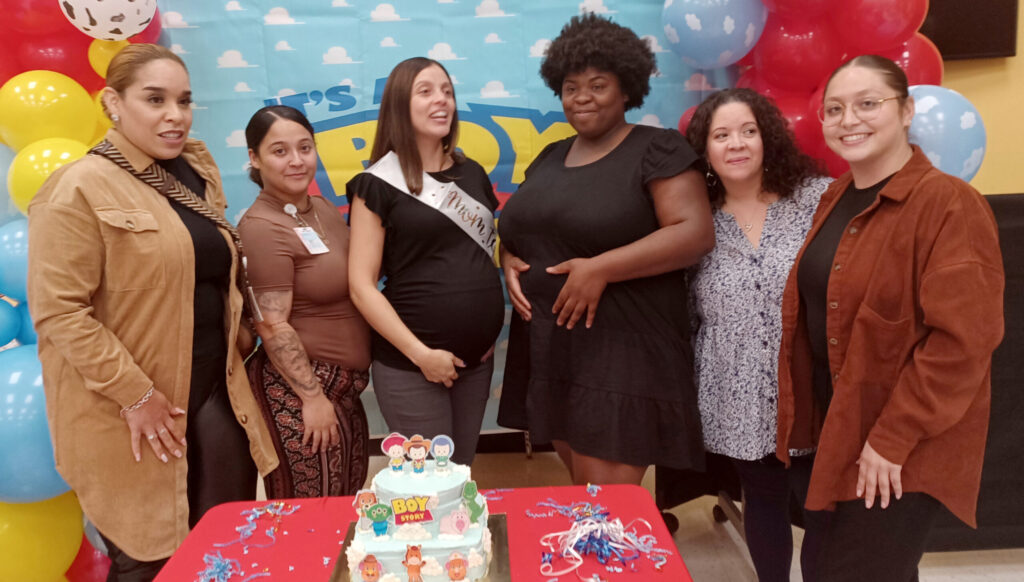 Stronger, bigger family for program director
Congrats to Melanie Santos, the supervisor of our SF2 (Stronger Families, Stronger Futures) program that is based at the Southside Family Center in Hartford. Her co-workers recently gathered for a baby shower.
---
Hartford Athletic soccer tickets available
There are only 2 more Hartford Athletic soccer matches left in the season. They are Wednesday, Oct. 4, and Saturday, Oct. 14. Click here to get tickets. Matches are at Trinity Health Stadium (formerly Dillon) at 250 Huyshope Ave. in Hartford. If you go and take photos, tag us on Instagram (@catholiccharitiesaoh).
---
What's happening on TikTok …
Click here to see the full Catholic Charities account.
---
Scenes from around the CCAOH world
Click each photo to see more from the website or social media posts
---
Send in your news!
We want to know what's happening in your world for the next newsletter! Births, weddings, awards … If it's newsworthy, send it to sgriffin@ccaoh.org.