This week marks a milestone, 32 and a half years in the making. We express sincere gratitude to Jim Cole, an extraordinarily kind, dedicated, and compassionate member of the Catholic Charities team, who has decided to pursue another opportunity as a letter carrier with the U.S. Postal Service.
"It feels surreal," he said. "I never would have thought I would work anywhere for 32 and a half years."
Jim has some prior experience in delivering precious cargo. Throughout his decades of service with Catholic Charities, Jim has been responsible for helping to deliver thousands of people from desperation to hope, from insecurity to security, and from war to peace.
We are proud of Jim's work with our longstanding refugee resettlement program in partnership with the U.S. Conference of Catholic Bishops. While Catholic Charities is not currently resettling new families in Greater Hartford, our agency does continue to work with families we have already resettled, and we are hoping to start new resettlements soon.
Jim's passion for helping refugee families began in Thailand as a member of the Peace Corps. "When I came back from the Peace Corps in 1987, I started volunteering right away in refugee resettlement," he said. "I wanted to keep in touch with the culture of southeast Asia and specifically in Thailand and Laos."
At first, he worked as a volunteer for another refugee resettlement agency, and then found his way to Catholic Charities as a paid employee.
Not long afterward, the fall of the Berlin Wall happened, bringing about an influx of families from Eastern Europe, including from Romania, Hungary, the former Czechoslovakia, and Azerbaijan. A few years later, the breakup of the former Yugoslavia brought families who were fleeing that terrible conflict.
"That first year I was here, we got more than 300 clients in the span of a month and a half. It was unbelievable," he said. "We never got quite that many in such a short amount of time, but we were regularly resettling about 300 clients a year."
Always careful to remind us that he was just one of many people performing this work, Jim was involved with greeting refugee families at the airport, bringing them to apartments set up with donated furniture and housewares, and teaching them to be safe in their new homes, including practical matters like how to use the stove.
"In those early days, we often had a staff of 12 to 15 people, but the number of languages we collectively spoke was anywhere in the neighborhood of 25 to 30 at a given time in order to successfully resettle," said Jim.
Every new arrival would be greeted at the airport by a person who spoke their language. Every first meal in their new home would be culturally appropriate, something with a familiar taste, smell, and texture, letting them know they were safe and this was home.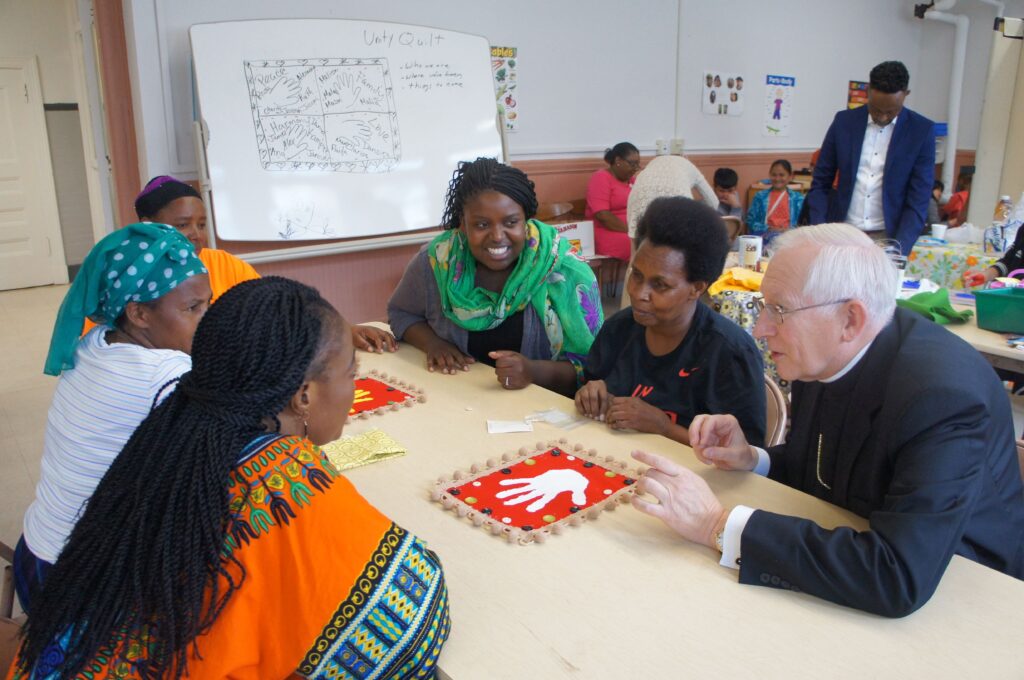 In their first days, weeks, and months working with Catholic Charities, refugee parents would go into English classes right away. Any additional medical screenings would be completed. Children would be enrolled in school, and parents would have assistance in learning to advocate for their children's education. Jim worked mostly in the employment side of things, preparing refugees for work, getting them prepared to live independently.
The presence of a caring, welcoming, and helpful partner is so important in the process of making new arrivals feel at home in our community. Jim remembers feeling so pleased to bring back the language skills of his Peace Corps days, when Catholic Charities began receiving a lot of families from the Karen ethnic group of southeastern Burma in the mid-2000s. Many learned to speak Thai from living in refugee camps.
"I just saw people light up when they realized we had a mutual language in common," he said.
Over the past decade, Catholic Charities has welcomed a significant number of families from south and central Africa, including the Democratic Republic of the Congo, Tanzania, South Africa, Malawi, and Uganda.
We asked Jim if there is a refugee story that stands out over the course of his career. He told us of a man from Romania named Florentin, who eventually grew to be one of Jim's best friends. Florentin died about 10 years ago. He was a survivor of torture from the Ceaușescu regime, with scars on his body to prove it, but he became so much more than a survivor as he embraced his new home.
"He just really, on so many levels, had an impact on me and in my work, learning to understand," said Jim. "I have seen reverberations of the effects of what he stood for, his actions, his influence on the community, not just limited to Romania by any stretch. That influence is still happening, as strong as ever, and I am really thankful for that, because he represents the thousands of other stories I could tell you."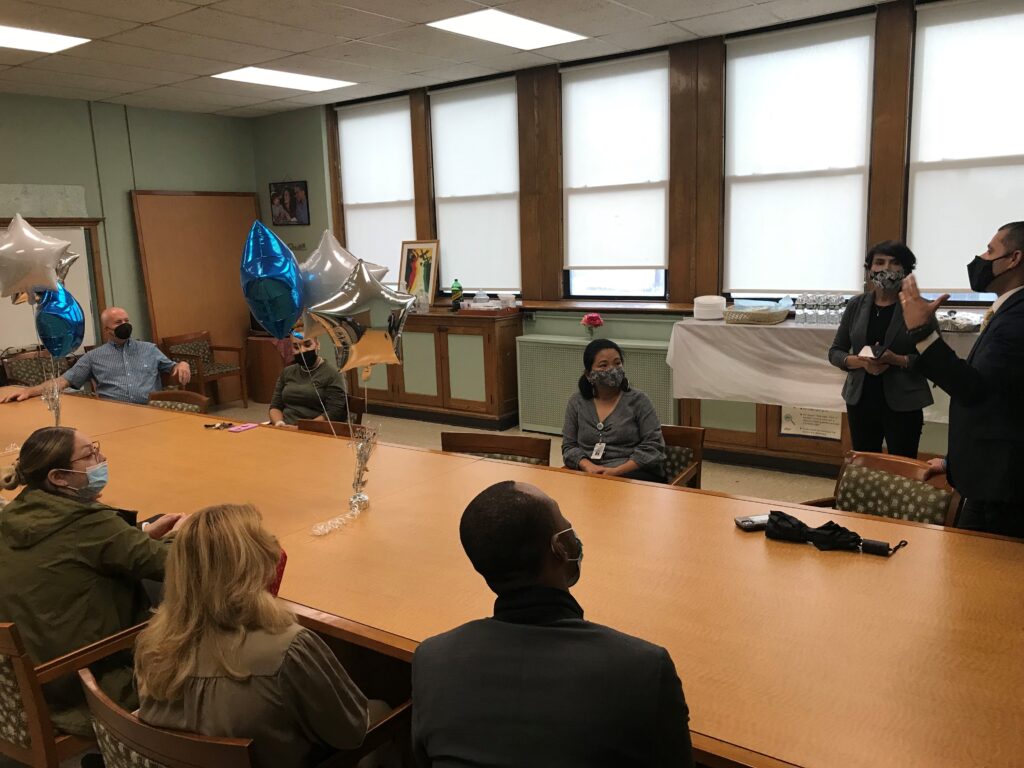 At a small gathering this week at our Southside Family Center in Hartford, a number of employees met to celebrate Jim and to wish him well on his next steps, of which there will be many as a U.S. Postal Service letter carrier.
While he doesn't yet know his letter carrying route, he imagines with a smile what it would be like to deliver mail to the house of a family helped by Catholic Charities.
Thank you, Jim, for your 32 and a half years of service to Catholic Charities, and thank you to every single one of your colleagues along the way who have made a better life for thousands of people. Because of your help, there is hope. Because of your hope, there is help.
Please consider making a gift to our Migration, Refugee, and Immigration Services program or another Catholic Charities program in honor of Jim Cole.